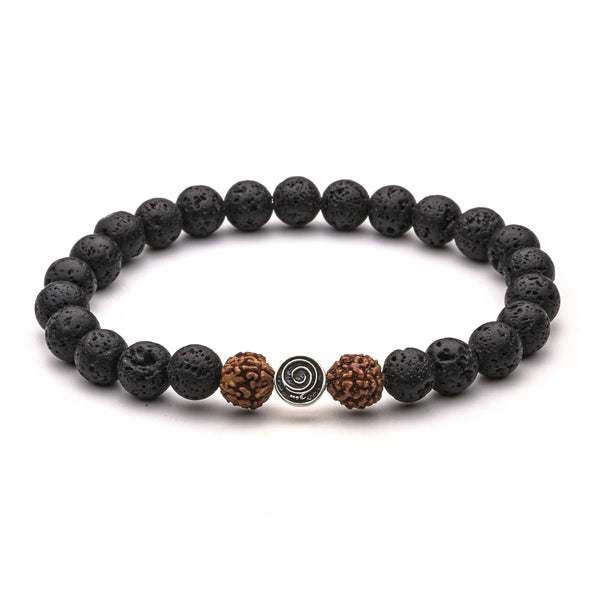 GROUNDED IN GRATITUDE LAVA STONE BRACELET MEN'S
Description
Find gratitude through:
Intention setting
Grounding
Calming
This ethically sourced lava stone bracelet has a 925 solid sterling silver charm hand stamped with the official symbol of gratitude and was handmade with love.
Gemstone Details
Lava stones are revered for their grounding and calming properties. By wearing this bracelet, you'll feel a sense of inner strength and a heightened awareness of the present, essential for practicing gratitude in your daily life. Order now to experience the power of mindfulness and appreciation on your wrist.
Rudraksha beads free you from negativity, enabling a more positive mindset and a greater sense of gratitude.
Sizing
Gemstones and Rudraksha are 8mm, strung on elastic measuring 7.87".


Description
Elevate your sense of gratitude with our stunning Lava Stone Gratitude Bracelet, featuring a 925 solid sterling silver charm imprinted with the official symbol of gratitude. This ethically sourced bracelet is a symbol of strength, love, and mindfulness, designed to enhance your daily journey of gratitude and was designed for men.
Features
Lava Stone Beads: Lava stones are known for their grounding properties, helping you find inner strength and balance.
Sterling Silver Charm: A beautiful accent hand stamped with the symbol of gratitude, a constant reminder of thankfulness.
Handmade with Care: Crafted with love and attention to detail, this bracelet is ethically sourced and expertly designed by artisans.
Promotes Mindfulness: Lava stones encourage a deeper connection to the present moment, fostering gratitude and appreciation.